The monetization and engagement platform for
choirs
bands
musicians
the performing arts
choirs
We make it easy for producers and creators to stream and monetize their performances, engage their audiences, and grow their brands.
IMPACTFUL RESULTS
Take your live performances to the next level
UNIFIED PLATFORM
Stream. Monetize. Engage. Grow.
Our platform provides you with everything you need to showcase your performance, connect with your audience, and grow your community beyond walls and borders.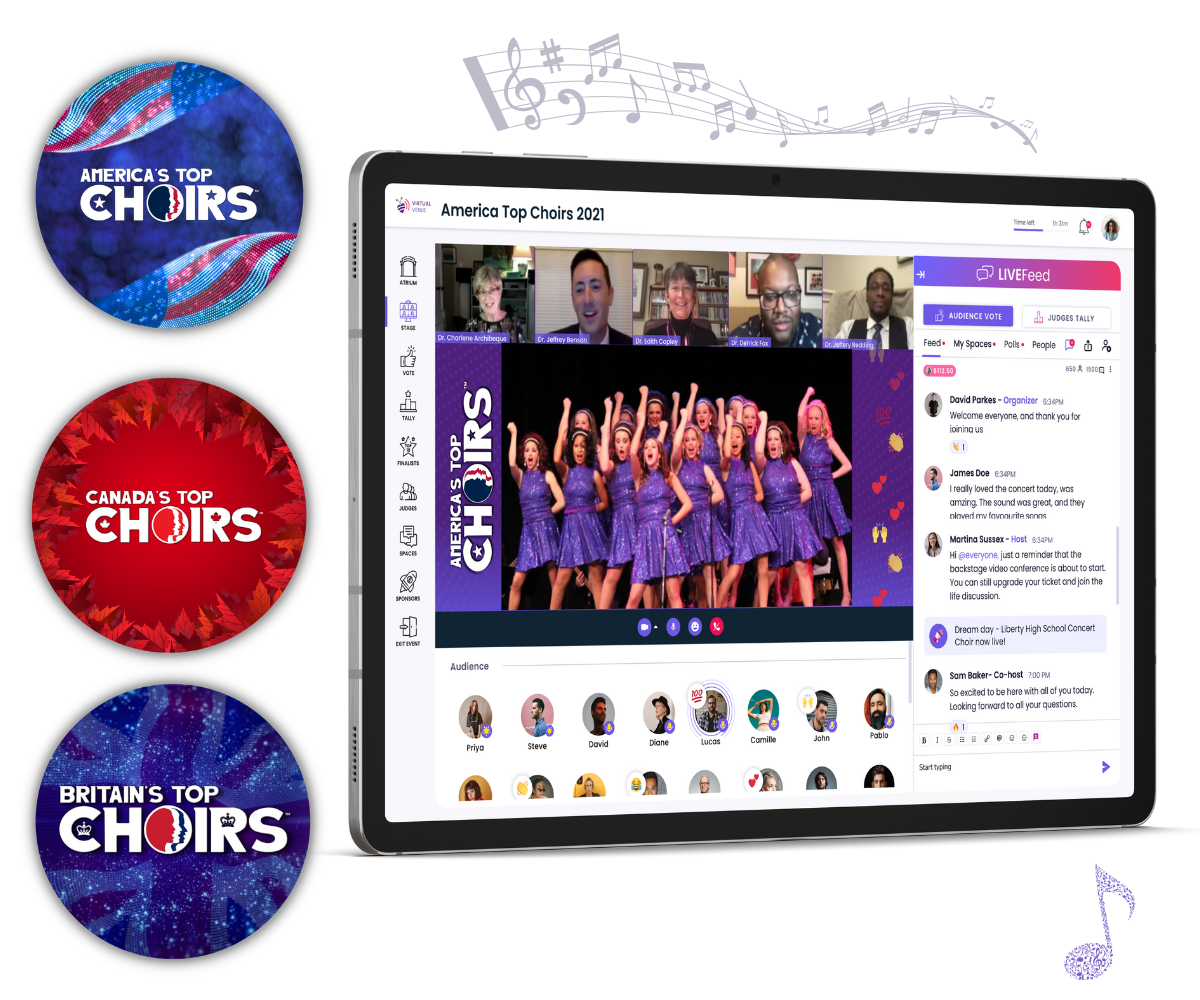 BUILDING THE ARTISTIC COMMUNITY
The biggest choral virtual competitions
FeelitLIVE aims to connect performers and audiences worldwide. To do this, we created and host Top Choirs™, an international series of virtual choral competitions designed to showcase the astonishing choral talent all around us as well as celebrate teamwork, resilience, talent, diversity and music's ability to bring people together.
EVENTS
One platform, endless possibilities
Give your worldwide audience a sense of belonging with high-impact and immersive performances and experiences of all types and formats.
TESTIMONIALS
What our customers have to say
"We've had the pleasure of using FeelitLIVE for several of our concerts both with the university choirs as well as with my community chorus. Its extremely high-quality video and extremely high-quality audio is one of the reasons we love it. The user interface and the user experience is fantastic - the chat during the concert as well as the interactive backstage pass where we can all celebrate after the concert. Tickets, upgrades, donations, auctions, merchandise store, both in advance of and during the concert have been tremendously effective for our community. My students, our users, our customers, everybody, fans watching at home have all been really happy with the product."
"FeelitLIVE has been our partner throughout this pandemic, working with us to produce four concerts during the 2021 season. I think of them as a one-stop-shop, where we can advertise our concert, sell tickets, gather donations as well as have a backstage pass function that allows us to have a more intimate post-concert experience with our artistic staff, singers, or our guest performers. I have been very grateful for everything that FeelitLIVE has done for us to keep us relevant during this pandemic."
Get the latest from FeelitLIVE directly in your inbox
Share your email so we can send you exciting updates and guides to choral events from around the world.